San Diego Towing Company. Tow service for vehicles, motorcycles & equipment.
Are you looking for a tow service from a company you can trust? One call to A & D Towing and your local or long distance vehicle towing is provided by trusted local San Diego Towing Company. Short tow to a neighborhood mechanic or towing to North County, you will always get up front honest pricing and quality service. In San Diego businesses operate day and night and we offer 24 hour towing service and after hours road side assistance. Car problems can be frustrating at times, but our drivers take good care of customers. If you are new in town and got stuck with broken down car on the road, one of our towing professionals will help you figure out the best outcome for your vehicle. Most of our customers does not have a plan written down in their glove box, what to do if car breaks down. You may feel kinda lost in situation like that. First thing first you will need to find affordable San Diego towing company to come out and help you. Requesting tow truck service San Diego by calling (619) 419-6177.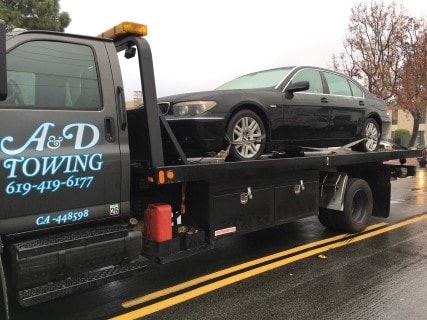 Where to tow your car after breakdown
A lot of times when we ask customer about a drop off location, the first thought that comes to mind is "tow it home". This can be a great option if you have a family member or friend mechanic to take a look and diagnose and repair the problem. We would kindly suggest to weigh all of the options, like towing straight to repair garage, that you know or closest dealer. This way you would avoid paying for tow service twice. From initial pickup to home and towing it from home to a place to be repaired at. If you are new in town and haven't had any need for repair to be made on your car, our tow truck driver will give you a few suggestions of near by reputable mechanics.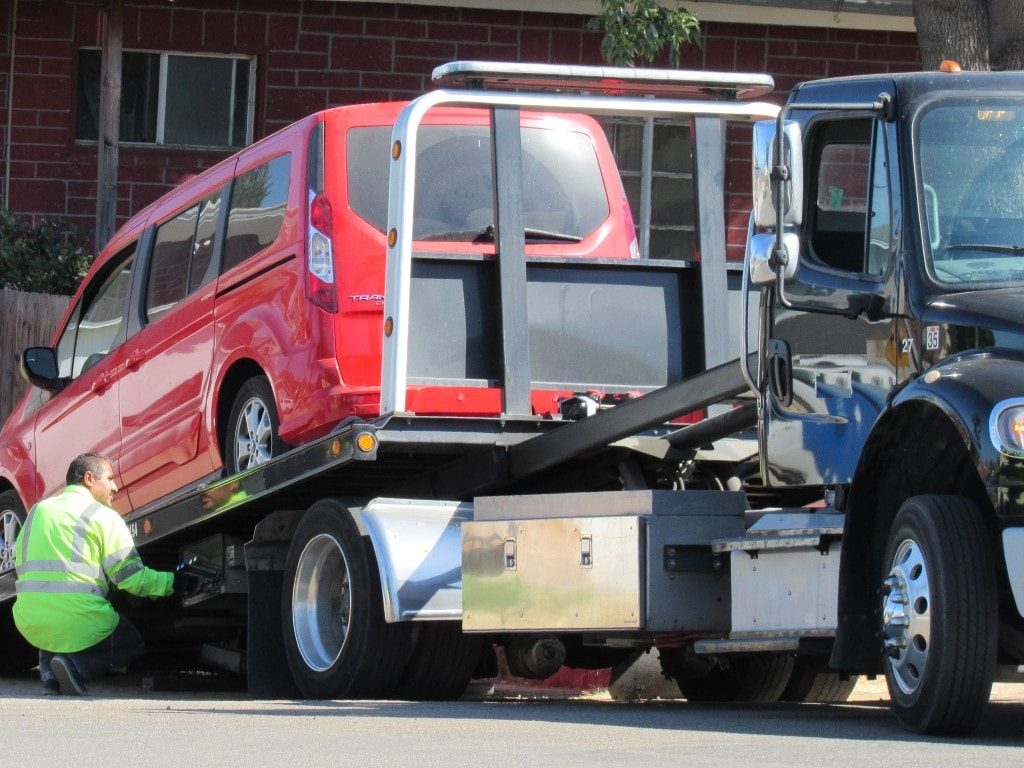 San Diego Towing Companies in your area.
Sometimes it may be difficult to find a tow service if your location if further away from major city hubs and highways. For example finding towing company near Jamul or Blossom Valley if much more complicated than in Kearny Mesa or Lemon Grove. When you get excuses from other tow companies in the area, call A&D Towing to get reliable tow truck services ASAP. Doesn't matter if you are in Otay or Saber Springs, we cover most of San Diego County for motorcycle & vehicle towing, with drivers in North County as well as San Diego Metro Area. We are your go to towing company in San Diego.

We are Experts at what we do
Do you think you have an unusual situation? Don't sweat it, call your San Diego towing experts to get your problem resolved. With many years of experience you can count on us to be prepared for any situation.
Towing without you being present – OK
No Key towing – OK
Low clearance parking garage – OK
Electric Vehicle towing – OK
Trailer Towing – OK
Fifth wheeler towing – OK
Multiple stories under ground – OK
Vehicle super low to the ground – OK
We are in business of helping people and No job too small or too far.

Clean Cut Local Towing Business as You would expect.
Our Tow truck are maintained inside and out just like you would expect from 5 star business. Very often owner of the broken down vehicle has to ride with us to the drop off location. We strive to provide you pleasant experience with clean interiors and cool A/C. If you are in unfortunate situation with passengers, we will dispatch one of our larger flatbeds that can seat up to 5 passengers. We are on the way to pick you up.