24 hour towing San Diego service

We Never Close and our Emergency Tow service available for your convenience 24/7. In San Diego towing service is in demand not only during peak hours, but also on late nights and weekends. A large variety of businesses and services are operating during late evening hours in San Diego, the demand for emergency 24 hour towing service is strong during day and night.

In large metropolitan area like San Diego the demand for convenience and emergency services is constant and does not end with normal business hours. San Diego residents and businesses heavily rely on 24 hour emergency services to keep life and business flowing. A and D Towing provides 24 hour towing San Diego service. In case of  emergency our dispatcher is answering calls 24/7 and will dispatch roadside assistance vehicle or a towing service to help you out. After hours towing service is a must in large metropolitan area like San Diego. 90% of all towing calls we receive are from customer who are in urgent need of a tow and only another 10% of our customers would prefer a scheduled tow for a later time.
We Respond to all calls immediately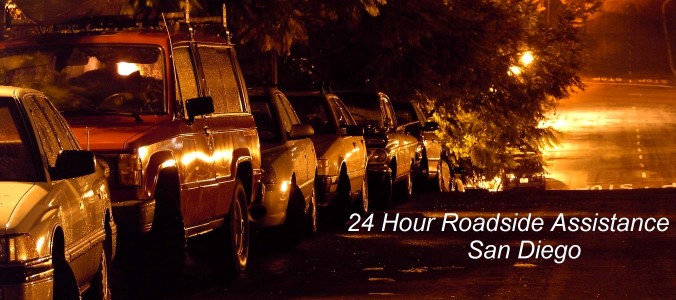 With many years in towing business in San Diego we earned a great reputation by doing right by our customers. Our 24hr towing service arrives on time and accurate up front pricing shows integrity of our service to San Diego residents and visitors.

I have heard stories when customers requests a tow from unverified internet website and after a while of waiting they would receive a call informing them that the service truck that was on the way has broken down and there is no other help available. You and I are no longer in kinder garden and this type of service in just UNACCEPTABLE. That's when you call A & D Towing 24 hour service, we are always available and most of the time just 30 minutes away from where ever you are. Flat tire, car stalled on the road or just a dead battery our qualified and experienced technicians will help you anywhere in San Diego metro area.
All types of towing services

Even a dirt cheap "Joe Schmo" towing service from craigslist can hook up and tow a car  from partially empty parking lot on his spare time. If you are looking for a Pro who can load your disabled vehicle from an underground garage in San Diego Downtown call 24 hour towing service San Diego. Here are some of the unusual circumstances that we can help you with:
Underground parking towing San Diego
Lowered car, low profile vehicle towing
Flat Bed Towing
Car stuck in "Park" mode towing
Winch out and off recovery
Accident towing San Diego
Low clearance garage towing
Under ground garage towing service San Diego
 

Emergency 24 hour towing and road service
San Diego residents can count on 24h towing service late at night or very early mornings. We can help you get your car home if it breaks on late Saturday night out, or if you just need a battery jump early in the morning on the way to work.

"Reliable" this is what we are proud of. Fast and friendly towtruck drivers will handle all automobile emergencies. We are the only towing company San Diego drivers awarded with the best reviews on Yelp.