Looking for a Flat Bed Towing San Diego?
We offer affordable flat bed towing San Diego for your car or truck. Today many cars and SUVs come with all wheel drive capability. When you need to transport your 4×4 AWD car or truck, the best and safest option to tow it by loading on a flatbed platform.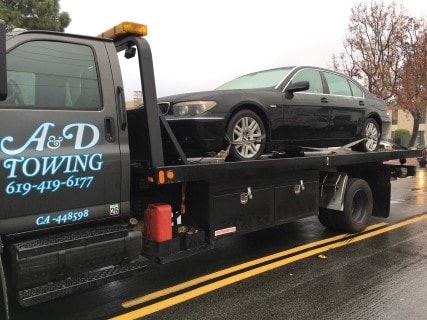 Not all tow trucks are created equal. It all depends on situation and the type of vehicle you are needing to tow. Flat bed towing service is very convenient way to transport any car or truck from disablement location to a repair garage. When being towed by a flatbed towing truck your car is securely lifted of the ground and attached to the car carrier platform. It is then secured from any movement with suspension chains and wheels secured with tie down straps. Rollback car carrier bed is the most convenient way to tow all wheel drive vehicles, low profile and exotic cars.

Flatbed is great for local and long distance hauls
If you are looking to tow a car long distance, a flat bed towing service is a smart way to do it. Not only you vehicle is securely shielded from the elements of the roadway, but also there is no wear and tear on tires and suspension parts like differential, bearings, transmission. The transported car is just parked on top of a flatbed platform while being moved its  destination. All of our towing services are available, to San Diego residents and visitors, 24 hour everyday including 24 hour towing San Diego.


Our flat bed towing San Diego service will protect your vehicle from wear, and unwanted mileage. We are trained and prepared to safely deliver your vehicle to its destination.
Request Flatbed for accident towing
Flatbed tow trucks are one of the safest and best choices for accident towing. Loading and towing crashed car with flatbed tow truck prevents any loose parts of the damaged vehicle from falling onto the freeway or street. Most of the time after accident there are some type of automotive fluid discharge from crashed vehicles (power steering fluid, coolant, motor oil or brake fluid). Requesting a flatbed tow truck will guarantee that these hazardous fluids does not splatter all over the roadway while towing.

Lowered car towing San Diego
Cars with excessively lowered suspension may require a special ramp or extreme angle flatbed platform to be safely loaded and unloaded onto and from the flatbed tow truck. We carry all necessary equipment to transport lowered Honda, Scion or Lamborghini damage free.
Give us a call request our Flatbed Towing San Diego Service.

A & D Towing 6029 Fairmount Ave, San Diego, CA 92120 (619) 419-6177